"Celebrating 156 Years of Standing on the Promises of God".
"And being fully persuaded that, what he had promised, he was able also to perform."
Romans 4:21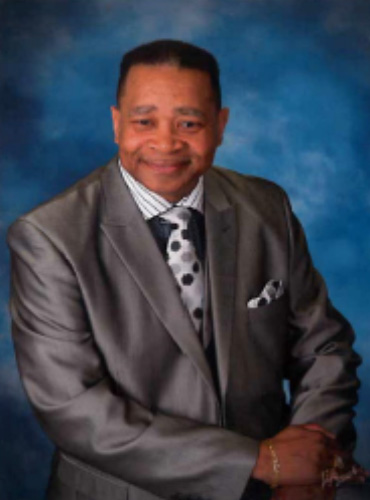 The Reverend Dwight O. Steele, Sr.
Pastor, Pilgrim Baptist Church Roanoke, Virginia
"Only fear the Lord, and serve Him in truth with all your heart; for consider what great things he hath done for you." 1 Samuel 12:24.

The Reverend Dwight 0. Steele, Sr., was born in Portsmouth, Virginia, on April 27, 1955. He is the son of the late Rev. and Mrs. Thomas M. Steele. He attended the Portsmouth Public Schools and is a 1973 graduate of l.C. Norcom high School.

Rev. Steele accepted Christ as his Savior at the age of eight; he was baptized and became a member of the New First Baptist Church, Taylorsville-Portsmouth, Virginia, under the pastorate of his father. During his early elementary school days, he was gifted to share a ministry of music. God blessed him to serve as minister of music for a number of churches in the Hampton Roads area.

ln 1975, he was united in holy matrimony to the former Ms. Connie Bullock of Chesapeake, Virginia. They are the proud parents of two sons, Dwight, Jr. and Dwone O'Neal Steele. They are also the proud grandparents of two granddaughters and two grandsons.
Prior to being called to preach, Rev. Steele attended John Tyler Community College majoring in Mortuary Science. He furthered his studied at Hampton University.

Rev. Steele was elevated to preach the Gospel in April 1980 and was ordained in 1984. He began his first pastorate assignment in January 1984 as senior minister of the historical Olive Branch Missionary Baptist Church, Elizabeth City, North Carolina. He served faithfully at this church until November 1987. On December 6, 1987 Rev. Steele assumed duties as pastor of Pilgrim Baptist Church, Roanoke, Virginia.

Since Rev. Steele's arrival, God has added much to the church. Ministries include: 24-hour Dial­A-Prayer (540) 342-5867, Jail Ministry that ministers to the Roanoke City Jail, Monday, Wednesday, Friday and Sunday, Handicap Van Ministry, Radio Ministry Monday through Friday (9:30 to 9:45 a.m. Radio Station WKBA 1550 on the AM dial and Sunday 1 :00 to 1 :30 p.m. WKBA, 1550 AM), Television Ministry featuring Pastor Steele and the Pilgrim Baptist Church Choirs. Wednesday, Thursday, Friday and Saturday, Cox Cable Television Channel #2. A Complete renovation of the interior of the church was accomplished during the first four months of the Steele's administration. By the end of his fifth year, Rev. Steele led Pilgrim's congregation into a new 1.5 million dollar edifice. In 1998 under Rev. Steele's guidance the Patterson Fellowship Hall was constructed. By November 1999, the church mortgage had been burned. In early 2014 Pilgrim broke ground for 2.5 million dollar Family Life Center. The 17,000 sq. ft. facility was completed and dedicated in March 2015.

Rev. Steele is an active participant in the civic, cultural and religious affairs of our city, state and nation and has been responsible for bringing many outstanding ministers, musicians and singers to our church and community.

On May 27, 2000, Virginia University of Lynchburg, School of Religion, Virginia Seminary conferred upon Rev. Steele, the degree of Doctor of Divinity.

Reverend Steele is a member of the Roanoke Baptist Ministers Conference of Roanoke, Salem, Vinton and Vicinity, member of the Roanoke Valley Ministers Conference, member of the Valley Baptist Association, member and director of music for the Virginia Baptist State Convention, member of the Hampton Ministers Conference, member of the Lott-Carey Baptist Foreign Mission Convention, Evangelist Board of the Gospel Music Workshop of America, and a member of Salem Masonic Lodge # 120.

Rev. Steele is also the founder and Chief Executive Officer (3) Officer of Serenity Funeral Home, Roanoke, Portsmouth, Pulaski.
LOCATION

225 Hatton Street
Portsmouth, VA 23704
757.397.1671

All services will begin at 11:00 a.m.
Livestream: zionbaptistva.com
Facebook: ZBCPORTSMOUTH
YouTube: Zion Baptist Church, Portsmouth
Web: zionbaptistva.com

Email

:

This email address is being protected from spambots. You need JavaScript enabled to view it.