Celebrating our Tenth Pastor in his 10th Year…
We would love nothing more than to have you share in this Joy with us. Please plan to join in his "10th Year Celebration (#Tenon10) by attending our 10th Pastoral Anniversary Banquet on June 1, 2019. Follow our website links for details of this celebration. Please also take a peek at some of the memories we have created thus far, as we celebrate this grateful journey in 2019. Keep checking back here at our website, as we continue to spread our love and joy with even more memories.
Enjoy!


Community Service Event
April 2019
Please check back soon for details.
10th Pastoral Anniversary Banquet
June 1, 2019
Mark your calendars to join us for this celebration. More information will be made available soon.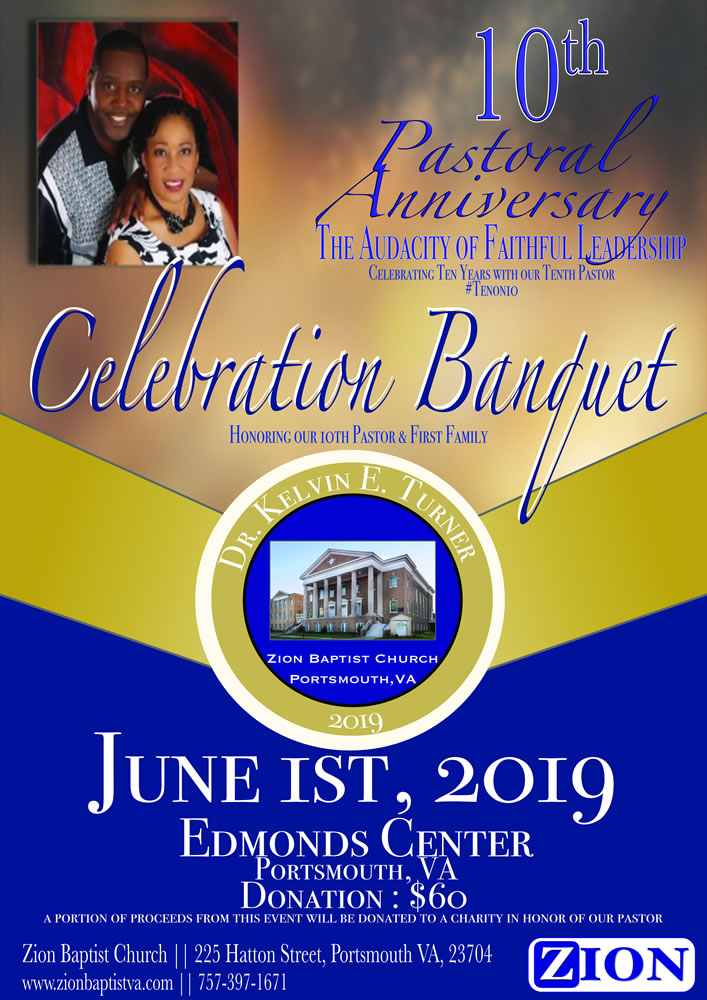 purchase tickets for banquet here
10th Pastoral Anniversary Celebration Banquet
June 1, 2019 @ Edmonds Center (Portsmouth, VA)
Donation: $60
To Our Family and Friends of Zion Baptist Church:
Our church history dates back 154 years, since 1865. Same Wonderful God. Same Rich Heritage, and Same Bountiful Praise. And for the past 10 years, Pastor Kelvin Turner, who accepted pastorship of this church in 2009, has meticulously led Zion Baptist Church through the rubles of our church fire, to new doors of worship, to an unstoppable commitment to serve, all because of "The Audacity of His Faithful Leadership". Faith in the leadership of Dr. Turner has inspired the ZBC congregation to rekindle hope, stay kingdom focused, transform lives, strengthen families, and commit even further to grow God's kingdom.

Dr. Turner has led the congregation in blending everlasting faith with a commitment to continue God's work. For that reason, and with the blessing of our God, all year long in 2019, we will express our gratitude and celebrate Pastor Kelvin and First Lady Karen Turner and our First family, in a memorable 10th Anniversary Year.


A Look Back
Click to thumbnail open the gallery
Dr. Kelvin E. Turner, Senior Pastor
We're celebrating the Tenth Year of our Pastor, Dr. Kelvin E. Turner who has dedicated his life to teaching and preaching the Word of God. Having been called to pastor the Historic Zion Baptist Church of Portsmouth, Virginia, he is the l0th Pastor in the church's 154-year history.

Due to a horrific fire at the original Green Street site of Zion Baptist Church, Dr. Turner arrived in Portsmouth, Virginia with no physical church home. He immediately began efforts to locate a worship center for the Zion congregation and successfully led efforts to revitalize the congregational spirit. In 2011, less than 2 years later, Dr. Turner, leading the Zion Baptist Church congregation purchased a multi-million-dollar historic worship, discipleship and ministry center in the historic Parkview community of Portsmouth, Virginia. Three years later, in August 2014, Dr. Turner then led the church efforts in completing an additional $2.3 million-dollar renovation effort of the facility, that now provides state-of-the art meeting rooms and technology, expanding the church's vision to reach souls in a more global way.

A native of Detroit Michigan, he is a graduate of Wayne State University, where he earned his Bachelors of Science degree in Psychology. He continued his education at the Southern Baptist Theological Seminary in Louisville, Kentucky, earning a Masters of Divinity in Christian Education, and a Doctorate of Ministry at Wesley Theological Seminary in Washington, DC.